I've been talking about it for about 5 or 6 weeks now, I've priced 6 different options to get it and 3 different ways to build it. The prices were all over the board, but I finally managed to find the option I was comfortable with, and pulled the trigger (figuratively) so that I pull the trigger (literally)
With the help of Wade at Dixie Ammo via GunBroker I'm the proud new owner of this: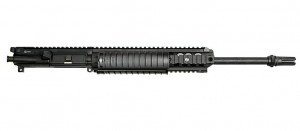 Complete 300 AAC BLACKOUT Upper Receiver Assembly
16″ Nitrided 1:8: Twist Barrel, threaded 5/8-24
AAC 51T BLACKOUT™ Flash Hider
"Full Auto" BCG
KAC URX Rail
Ready to drop onto your AR15/M16/M4 lower!
Works with an AR lower with "Mil-Spec" push pin locations.
I've also ordered a bare barrel as well, and I plan to build a 2nd upper from scratch, just for fun.
I picked the AAC model for a variety of reasons. I plan to suppress this soon using AAC's suppressor, and this as a package gives a known result. The AAC stuff is the original, I love that the rail is a Knights Armament, since I thought I'd never own ANYTHING they made, and they are a "local" Florida company. Fit and finish seems fantastic, I'm eager to get it out there and see how it does.
Now I just need to buy some optics!
I also purchased a few boxes of Gunn Ammo's 300 Blackout 147 grain FMJ Supersonic