This is some nice looking stuff. I went cheap on dies, mostly because what I wanted wasn't in stock at the time, worst case I'm out a little $ when I buy something else. Here's hoping that LEE can do the job.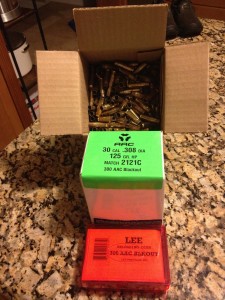 Remington Brass 300 AAC Blackout (7.62x35mm) Primed Box of 500
Product #: 398706 $129.99
Sierra Matchking Bullets 300 AAC Blackout (308 Diameter) 125 Grain Open-Tip Match (OTM) Box of 500
Product #: 915404 $159.99
Lee Pacesetter 2-Die Set 300 AAC Blackout
Product #: 934234 $32.49
Turns out I'm out of H110, well, not so much OUT, I have two cans, but they are more than 20 years old, possibly more than 30 years old. I'd rather spend some $ on some newer powder.