Got a delivery from the mailman today with some parts to fix 500B#3, which has been used as a parts machine over the past year or three. Finally sat down and emailed Dillon precision with my requests and, as usual, received a pleasant response with notice my parts were on their way.
Spent Saturday getting that press cleaned up, and new parts installed to make it run. I'm considering setting it back up for 30 carbine and doing a run of those (till I run out of brass).
Thought I'd post a pic of the current setup.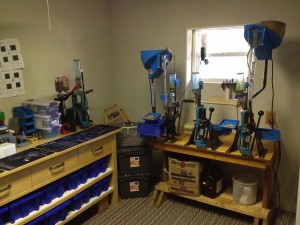 I really need a new bench, as I'm only able to utilize 3 of my 6 presses given current bench space. Next bench build I'm going for an 8 foot table, I think. I have a design I'm playing with already, More width, less depth.